Repairing appliances for
Over 20 Years
Our professional team of technicians will guide you through an easy process of repairing your appliance.

Request a Repair
Fast Response
We strive to provide you the urgent service you want, with our award winning call answering center and a computerized ticketing system.
Technical Knowlege
Our trained technicians have the right knowledge and experience to diagnose and repair your appliance in a short timeframe. You'll be glad.
Honest Pricing
At A-best you will be explained exactly what's going wrong with your appliance and we will help you understand the final costs.
Areas We Service
A-best Appliance Service repairs all major brand appliances in NYC. We service Brooklyn, Manhattan, and Staten Island.
Our technicians diagnose, repair all major appliances, including refrigerators, freezers, washers, dryers, dishwashers, stoves, ovens, ranges, grills, vent hoods, and many other appliances.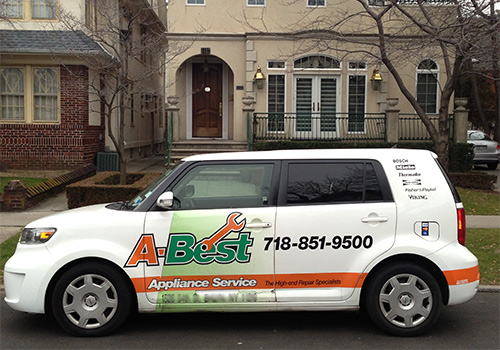 Zip Codes Brooklyn
Brighton Beach: 11235 // Brooklyn College: 11210 // Brooklyn Heights: 11201 // Brooklyn Navy Yard: 11205-1080 // Brower Park: 11213 // Brownsville: 11212 // Bushwicks: 11221, 11237 // Canarsie: 11236 // Carroll Gardens: 11231 // Clinton Hill: 11205 // Cobble Hill: 11201 // Columbia Heights: 11231Coney Island: 11224 // Crown Heightss: 11225, 11213 // Cypress Hills: 11208 // Ditmas Park: 11218 // Downtown Brooklyn: 11201 // DUMBO: 11201 // Dyker Heights: 11228 // East Flatbushs: 11203, 11212 // East New York: 11207 // Flatbush: 11226, 11210 // Flatlandss: 11234 // Fort Greene: 11205 // Fort Hamilton: 11209 // Gowanus: 11217 // Gravesend: 11223 // Greenpoint: 11222 // Greenwood : 11232 // Homecrests: 11223, 11229 // Industry City/Bush Terminal: 11232 // Jamaica Bay: 11236 // Kensingtons: 11218,11223, 11229 // Kings Highway: 11229 // Kings Plaza: 11234 // Madison: 11229 // Manhattan Beach: 11235 // Marine Park: 11234 // Midwood: 11230 // Mill Basin: 11234 // Park Slopes: 11215, 11217 // Parkville: 11204 // Prospect Heights: 11238 // Prospect Lefferts Gardens: 11225 // Prospect Park South: 11226 // Red Hook: 11231 // Sea Gate: 11224 // Sheepshead Bay: 11235 // Starrett City: 11239 // Stuyvesant Heights: 11233 // Sunset Parks: 11220, 11232 // Vanderveer: 11210 // Vinegar Hill: 11201 // Weeksville: 11213 // Williamsburgs: 11206, 11211, 11249 // Windsor Terrace: 11215 // Prospect Park : 11215 //
Manhattan Zip Codes
James A Farley: 10001 // Knickerbocker: 10002 // Pitt: 10002 // Cooper Station: 10003 // Whitehall Retail Unit: 10004 // Wall St. Station: 10005 // Bowling Green Station: 10007 // Church St Station: 10007 // Peter Stuyvesant Station: 10009 // Tompkins Square: 10009 // Madison Square: 10010 // Old Chelsea:10011 // Prince: 10012 // Canal St: 10013 // Village Station: 10014 // Murray Hill: 10016 // Dag Hammarskjold: 10017 // Grand Central: 10017 // United Nations Station: 10017 // Midtown: 10018 // Port Authority Convenience: 10018 // Radio City: 10019 // Rockefeller Center: 10020 // Cherokee: 10021 // Lenox Hill: 10021 // FD Roosevelt: 10022 // Ansonia: 10023 // Columbus Circle Station: 10023 // Planetarium: 10024 // Cathedral: 10025 // Columbia University: 10025 // Park West Finance: 10025 // Morningside: 10026 // Manhattanville: 10027 // Gracie: 10028 // Oscar Garcia Rivera Station (Hell Gate Station): 10029 // College: 10030 // Hamilton Grange: 10031 // Audubon: 10032 // Fort Washington: 10032 // Sgt. Riayan A. Tejeda Sta (Washington Bridg)e: 10033 // Inwood: 10034 // Triborough: 10035 // Times Square: 10036 // Lincolnton: 10037 // Peck Slip: 10038 // Colonial Park: 10039 // Fort George: 10040 // Island: 10044 // Lower Manhattan business district: 10280 // Tribeca: 10282 // Upper East Side: 10128 // Midtown Upper East Side: 10065 //
Staten Island Codes
Port Richmond: 10302, 10303, 10310 // South Shore: 10306, 10307, 10308, 10309, 10312 // Stapleton and St. George: 10301, 10304, 10305 // Mid-Island: 10314 //